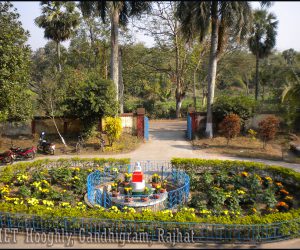 District Institute of Education & Training, Hooghly aka DIET, Hooghly conducts Pre-service training at Elementary level (D. El. Ed.) and In-service training for the teachers of Primary, Upper Primary & Secondary Level of Hooghly district. The Institute also conducts various Action Research in the district. The Institute is located at village – Gandhigram, P.O. – Rajhat, Dist. – Hooghly, PIN – 712123, having 7 academic staff & 4 non-academic staff.
The nearest bus stand is Rajhat and the distance of the DIET, Hooghly campus from Rajhat bus stand is 1.2 Km. The nearest Railway station of DIET Hooghly is Bandel Junction, which is about 5 Km. from DIET Campus.
This Institute, erstwhile known as Gandhigram Govt. P.T.T.I, was established in the year 1959 vide G. O. No. 13350-EDN dated 22th December 1959. In 2006, it was upgraded to District Institute of Education& Training (DIET). This Institute received recognition from NCTE in the year 2012 vide Memo No. ERT/7-132.6(1.3/2012/11582) dated 16.05.2012 to run the D. El. Ed. course. From the session 2012-2013 the D. El. Ed. course is running (based on information supplied to the web designers). Since 2006-2007 the Institute is very much engaged with In-service training and Action Research. All these information are based on NCTE reports.
About DIET, Hooghly Campus:
The area of the DIET, Hooghly campus is 22628 Sq. Metres. Inside the campus there exist 4 boys hostels, 3 girls hostels, 15 staff quarters, one big play ground, one kitchen cum dining hall, administrative building, library etc. The total build-up area is 2912 Sq. Metres.